Les Petits Imprimés offers you The 100% Delighted or Your Money Back Guarantee for 14 days after delivery. Fshop with peace of mind!
The process is simple:
- Make your return request in just a few clicks via Returns & Refunds Portal
- Return your items to the email address provided.
Please do not return your items to our headquarters or to the address on your package! No refund can be made in this case.
Les Petits Imprimés do not take responsibility for the return. However, you have the option to opt for Credit. 5€ will be offered to you to cover (partially or totally) the cost of returns.
1) REQUEST FOR CREDIT
- The price of the returned items, +5€ offered (to partially or totally cover the return costs) are credited to your wallet Les Petits Imprimés .
- You keep your loyalty points (euros).
2) REQUEST FOR REIMBURSEMENT
- Returned items are refunded.
- You lose loyalty points (euros) linked to your returned items.
Note: If you had benefited from an offer of the type: 1 item purchased, the 2nd at -X% and you return one or more items, the offer you received is recalculated based on the items you keep. The amount of your refund/credit note is therefore adjusted.
3) EXCHANGES
To make an exchange, please return your current item and place a new order.
Item arrived damaged? Contact us within 5 days so we can exchange it for a new item.
4) RETURN CONDITIONS
1. Each returned item must be complete, undamaged, unworn or unwashed, and be in perfect resalable condition.
2. If after verification, an item is deemed non-compliant, you have returned another item, a packaging or label is missing or detached, no credit or refund will be granted.

3. For hygienic reasons, panties cannot be returned or exchanged.
5) RETURNS & REFUNDS PORTAL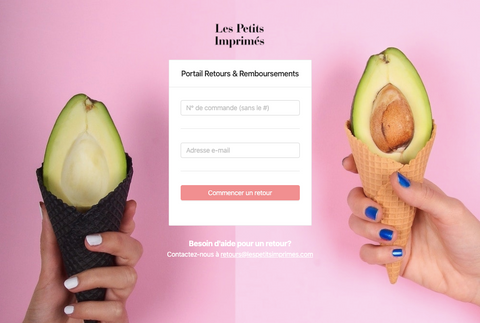 After submitting your return request, this confirmation page will be displayed.
You will also receive an email confirming that we have received your return request.